We're living in a world where everything is becoming expensive and unaffordable, even legal procedures like attestation can't be excluded from the list. Attestation has now become a mandatory and required process for migrating, traveling,or studying abroad.The main purpose of attestation is to check the authenticity of the submitted documents and confirm them by the signature of the verifying personnel. By emphasizing client contentment, NEW INDIA ATTESTATION offers affordable certificate attestation services for personal, educational, or commercial documents.
There are legal processes in the attestation of educational or non-educational certificate attestation in Qatar that need to be conducted in a proper manner. NEW INDIA ATTESTATION has laid successful foundations in Qatar, Oman, and the UAE with years of applaudable service in the attestation and apostille-related business.All of our services are designed in a way to meet the urgent requirements of customers since most of them require fast and accurate attestation solutions. If not properly done, the legalization of documents or certificates can turn out to be time-consuming and a loss of money.

NEW INDIA ATTESTATION is known for dealing with any sort of certificate attestations along with other services like PRO, PAN card, etc. in a convincing manner.
Certificate Attestation Services in Qatar, Oman, and the UAE
Since the Middle East is home to a large number of ex-pats, the rules and regulations are keenly maintained in order to minimize forgery and faulty activities. NEW INDIA ATTESTATION can carry out certificate attestation services without any hassles in Qatar, Oman, and the UAE.


Approved by many embassies around the Middle East, we excel in this division of work with the utmost professionalism. Our large network workforce is specifically trained and well-equipped with modern advancements to deal with various certificate attestation requirements.By taking the burden of hectic attestation procedures from the lives of clients, NEW INDIA ATTESTATION always identifies and forecasts the needs before they are addressed by the customers.

Within 7- 10 Indian working days, we can complete the attestation of your certificate and deliver it to your doorsteps. We don't charge any fees for collecting or delivering your attested documents.The reliability and belief of our customers motivate us to strive each day to contribute more to their lives and become trustworthy companions for their legal and attestation requirements.
The legal processes in the attestation of an Educational Certificate
Opportunities for education have expanded on the worldwide stage since many nations are inviting students from all over the world amid their backgrounds, diversities, etc.In order to get better living conditions and career opportunities, students are also willing to travel to different nations. Educational certificate attestation is one of the important requirements that need to be completed before moving to any country.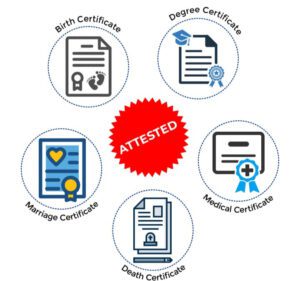 The legal processes involved in the attestation of an educational or non-educational certificate in Qatar involve the authentication process performed by different government authorities and embassies in order to confirm its genuineness before submitting it for any official purposes.

Without proving the genuineness of your educational certificate, you can face difficulty or rejection trying to stay in a foreign country. At any time of the day, NEW INDIA ATTESTATION can take care of your educational certificate attestation at any time of the day.


Fast & Affordable Attestation Services That Guarantee Results
Ever since NEW INDIA ATTESTATION began its result-oriented certificate attestation services in the Middle East, it has been successful in identifying the requirements of the customers,With various modern features to offer, including online tracking ID, the NEW INDIA ATTESTATION is the most preferable option to go for when you're desperately searching for adequate solutions for attesting both educational and non-educational documents.
Our firm is known for handling the most demanding situations in an effortless manner.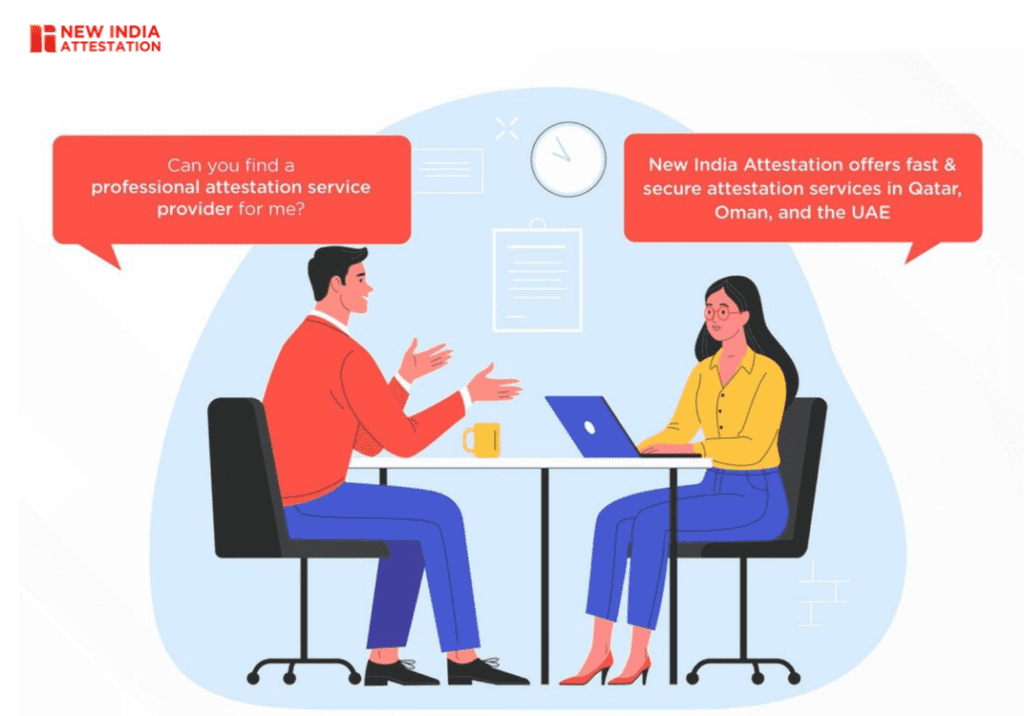 The legal processes involved in the attestation of an educational or non-educational certificate attestation in Qatar involve several hectic procedures, and if not properly done, it can turn out to be a daunting experience.

NEW INDIA ATTESTATION understands the importance of the attestation procedure in one's career, so everything from collecting the certificates to delivering the attested documents is fulfilled with industry-demanding professionalism.

Even if there's the slightest delay in your attestation process, our workforce can take care of it without letting you break a sweat.