If you are considering traveling or working in Qatar, you might encounter the term "MOFA attestation." The Ministry of Foreign Affairs (MOFA) in Qatar is responsible for verifying and authenticating documents for use within the country.

MOFA attestation in Qatar is an important part of the document legalization process, ensuring that your documents are valid and credible in Qatar.

NEW INDIA ATTESTATION is a reputable service provider in Qatar with extensive experience and knowledge in handling various types of attestation requirements.
Importance of MOFA Attestation in Qatar
MOFA attestation in Qatar is of significant significance and is required for several legal and official purposes. Whether you are seeking employment, pursuing advanced studies, initiating a business venture, or even planning a marriage in Qatar, MOFA attestation is frequently obligatory.

It acts as evidence that your documents have undergone verification and authentication by the Ministry of Foreign Affairs, enhancing the trustworthiness and legitimacy of your personal, educational, and professional records.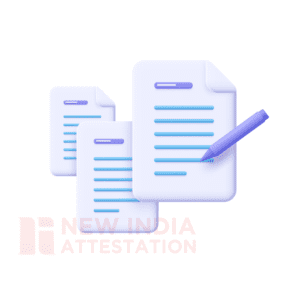 MOFA attestation required documents in Qatar
MOFA attestation required documents in Qatar can vary depending on the type of document and its intended use. However, the following are some commonly attested documents:
Educational Certificates: This category includes degrees, diplomas, transcripts, and other educational qualifications obtained from universities, schools, or educational institutions.

Marriage Certificates: If you are planning to get married in Qatar, the marriage certificates of both the bride and groom need to undergo MOFA attestation.

Birth Certificates: Birth certificates of children born in a foreign country may require MOFA attestation for various purposes, such as obtaining a family residence permit in Qatar.

Commercial Documents: Individuals or businesses involved in trade may need MOFA attestation for commercial documents like invoices, contracts, and agreements.
The exact list of required documents may vary, so it is advisable to check with the professional attestation experts of the NEW INDIA ATTESTATION to ensure you have the correct documents in order to avoid unnecessary delay or even rejection.
MOFA attestation in Qatar Location
To complete the MOFA attestation in the Qatar location, you need to follow a specific process. Here is a step-by-step guide:
Notarization: Before initiating the MOFA attestation process, it is often necessary to get your documents notarized by a recognized authority in your home country. This ensures that your documents are legally valid.

Home Country Attestation: After notarization, the documents need to be attested by the relevant authorities in your home country, such as the Ministry of External Affairs or the Department of State.

MOFA Attestation in Qatar: Upon arriving in Qatar, the final step is to submit your attested documents to the MOFA office for official attestation. The MOFA office in Qatar is located in the capital city of Doha. The exact location can be obtained from the Ministry's official website or by contacting the MOFA helpline.

Qatar Embassy Attestation: Once the home country attestation is complete, the documents should be sent to the Embassy or Consulate of Qatar in your home country for further attestation.
Fast and Secure MOFA Attestation By NEW INDIA ATTESTATION
MOFA attestation is a crucial necessity for individuals who intend to work, study, or establish themselves in Qatar. It enhances the trustworthiness and legitimacy of your documents, making them legally valid for various official uses.

NEW INDIA ATTESTATION provides customers with an online tracking feature to monitor the progress of their attestation process and receive timely updates.

We have integrated advanced technologies into our daily operations to ensure that our customers receive their attested personal and commercial certificates promptly and efficiently.
By recognizing the importance of MOFA attestation, collecting the necessary documents, and adhering to the proper procedures, you can ensure a seamless and trouble-free attestation process in Qatar.
It is advisable to seek guidance from the knowledgeable professionals at NEW INDIA ATTESTATION for expert assistance and advice.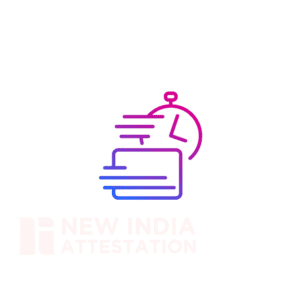 OUR PROFESSIONAL SUPPORT TEAM
Professional work culture:
The culture of a company defines its identity. The way an entity does business is regarded by both the personnel that make up the organisation and its clients and consumers, and it is determined by its culture.
Fast and Secured Service:
We are a professionally oriented organisation led by bright and experienced leaders. We believe in customer satisfaction and hope to build long-term relationships with our customers. Our skilled team will assist you.
Individual attention to every customer:
NEW INDIA ATTESTATION Qatar is a group that engages in a variety of initiatives aimed at increasing customer satisfaction. We always believe in customer satisfaction, thus we never sacrifice quality for our clients.
Streamlined Communication:
Apostille Qatar is a type of attestation in which documents are legalized in a meticulous layout that is adequate in all countries that is a members of the Hague Convention. The country where you propose to utilize your credentials.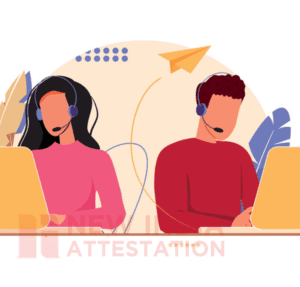 Do Join Our Team for establishing your Business:
Please send us your query of interest in order to obtain our services. We will respond as soon as possible.
OUR MOST DEMANDING QATAR ATTESTATION SERVICES
Attestation Procedures 

Birth Certificate Attestation

Medical Reports

Degree Certificate Attestation

Diploma Certificate Attestation

Marriage Certificate Attestation

MOFA Attestation Services

Apostille Services

Salary Certificate Attestation

Transfer Certificates
SECURED TRACKING SYSTEM
NEW INDIA ATTESTATION has implemented a tracking system, knowing about the customer's need of the urgency of each document they required to be get submitted for various purposes and this system helps them to track and update the respected authority for any delay in their document submission in turn NEW INDIA ATTESTATION could promise our customers with any of their document attestation procedures.
The benefits of the Tracking System:
Added Safety-

Tracking systems can help to improve safety by monitoring when and where the document has reached and departure time.




Reduced Traveling Coast- We give our customers Door-to-door services with 24/7 support and do all attestation or competence of the missing documents if required., the customer does not need to have to run behind back any Attestation procedures.

Reduced theft- Tracking systems, which provide real-time location data and alerts for unauthorized service or delay use, can help to decrease theft and track your document delivery.

Improved customer service- Can track the real-time updates that help with the status of their deliveries