Located on the southeastern coast of the Arabian Peninsula, Oman is a diverse nation with a rich history, culture, and traditions that have been shaped by its strategic location at the crossroads of several civilizations that contributed to the impressive growth of the Gulf region.

The country has witnessed significant growth in economic and social development in recent years, which has contributed to the increase in the number of expatriates. Undoubtedly, one needs to avail of attestation services in Oman to assure they're legally approved to work or conduct business in the nation.
Document attestation in Oman is a mandatory process that justifies the presented educational or professional certificates to government agencies, employers, or educational institutions as genuine and not fraudulent. If you're reluctant to attest your certificates, this can result in delays or even rejection of your application, which can be frustrating and costly.

This is where you need the adequate services of NEW INDIA's certificate attestation services in Oman; we possess a dedicated and experienced team with the necessary expertise and knowledge to handle the entire certificate attestation process on your behalf.

Our team will guide you through every stage of the certificate attestation services including document verification, notarization, and embassy attestation, and deliver your attested certificate to your doorstep.
How Do Our Attestation Services in Oman Differ From Others?
Taking your certificate attestation forward on your own can be complicated and time-consuming due to the paperwork involved. If the process is not conducted properly, it can cause delays.

At NEW INDIA ATTESTATION, we offer attestation services in Oman to handle all the paperwork and liaise with relevant authorities on your behalf.

We ensure the on-time completion of your attested documents, whether it's for educational, non-educational, or commercial registration.
Our attestation and apostille-related services are highly sought after by individuals residing in Oman or abroad. In Oman, it is mandatory for all documents to be attested by the Ministry of Foreign Affairs (MOFA) before they can be legally accepted for various applications.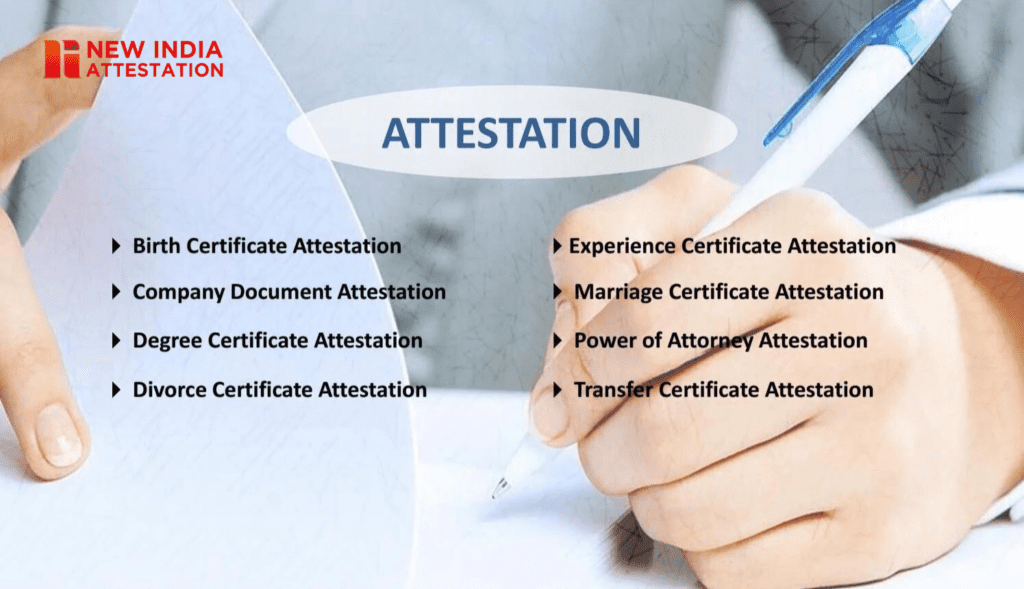 Whether you're starting a small business or pursuing higher education, validating the authenticity of your personal and educational documents is crucial. With years of experience in dealing with all types of certificate attestation, our firm is equipped to handle your needs at any time of the day.

We guarantee completion of your certificate attestation within just 7-10 Indian working days. Stop looking for "certificate attestation near me" and put your trust in NEW INDIA ATTESTATION. 
Salary Certificate Attestation in Oman
A salary certificate is a document issued by an employer to an employee that outlines the relevant details of the employee's salary, including the gross salary, any allowances, or benefits.

The process involving the salary certificate attestation in Oman consists of having the document certified by the relevant authorities, both in Oman and in the employee's home country.

If you're new to the country then seeking the professional attestation services of the NEW INDIA ATTESTATION can help you ahead of any delays or complications. Having your salary certificate attested is going to benefit you by providing legal protection to work in Oman and being paid a fair salary.

To avoid any exploitations in the future by your employer, it is advisable and sensible to attest your salary certificate.
With NEW INDIA ATTESTATION, You Can Achieve Perfection Every Time
With new rules being imposed every day, it's essential to get your certificates attested to avoid any legal hassles in the future. At NEW INDIA ATTESTATION, we offer affordable and professional attestation services in Oman.

The process of certificate attestation in Oman can be complex and tiring if not done properly, so it's better to seek professional services for a smoother and hassle-free experience. Don't go far in your search for attestation services near me, since NEW INDIA ATTESTATION is here to serve you.