With advancements in communication and transportation, the world has become a small village. From educational purposes to employment reasons, people are traveling from one part of the globe to another. These travels and migrations have necessitated the attestation of documents in foreign lands. For verifying the authenticity of a document and enabling it for official use in Oman, MOFA attestation is essential. 
MOFA attestation acts as an international seal that is accepted by foreign countries. It is essential for professionals seeking a job in Oman or trying to get a residence visa. Attestation is imperative for business and academic purposes as well. Once the legality of your documents is ensured, you can proceed with the next step. So, exactly what is the MOFA attestation Oman procedure?
The Process of MOFA Attestation Oman
MOFA, Ministry of Foreign Affairs, document attestation is a necessary verification step for important certificates like birth, education, marriage, and death certificates, etc., to be used in Oman. The documents issued in a foreign country become acceptable in Oman only after acknowledgement from the Ministry. The MOFA attestation confirms that the documents are genuine and were legally issued by the proper authorities.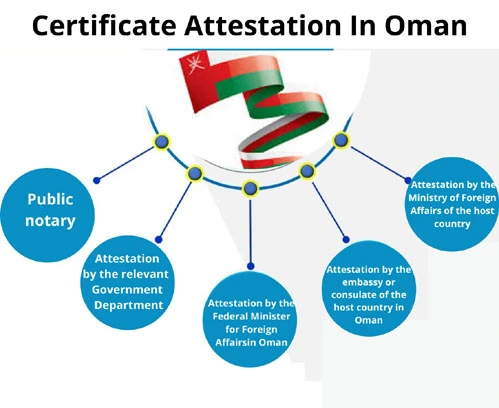 The attestation process is not a simple procedure with a single step. It is a multiple-step process that involves multiple departments and ministries of the home country and destination country.
The document attestation process begins with Regional attestation by notaries. It is then followed by State level attestation. After MEA and Embassy attestation comes MOFA attestation. 
Required Documents for MOFA Attestation in Oman
For MOFA attestation, you must present certain documents. MOFA Attestation Required Documents in Oman depend on the type of document you want to attest. You will be asked to provide different types of documents for different attestation purposes. You might want to attest educational documents, personal documents, or commercial documents.
Though generally, the documents you will be required to furnish for attestation purposes are your original documents along with a letter of authentication and a xerox copy of both your visa and passport. You might also be asked for supporting documents or details to prove the credibility of your papers. Your address, phone number, and email ID will also be collected. 
Step-by-step document attestation process
Regional Level Attestation
This is the initial level of attestation. At this level, notaries verify the legal validity of the documents. This stage varies according to the documents you are attesting. The Chamber of Commerce can verify the authenticity of commercial documents.  If educational documents are being attested, then issuing Universities can certify them.
State Level Attestation
State level verification is done once the regional level certification is completed. State Home Department (SHD), Human Resource Department (HRD), and Sub-Divisional Magistrate (SDM) conduct verification at the state level. After regional level authentication documents are attested by SDM. SDM attestation is the document verification at the sub-divisional level.
MEA Attestation
The next step in the attestation process is MEA attestation. Ministry of External Affairs attestation is required on your document for the credibility of your document. There are two forms of MEA authentication: Apostille attestation and Normal attestation.Countries signatory to Hague Convention accept Apostilled documents.Oman is a signatory to the Hague Convention.Oman is a signatory to the Hague Convention. Normal attestation procedure should be followed in countries not members of the Hague Convention. 
Embassy Attestation
Embassy of the destination country checks the attested certificates once the external affairs ministry verifies the document. After the MEA attestation process is completed, you can approach MOFA for final attestation. Embassy attestation is not mandatory for all countries. 
MOFA Attestation
MOFA Attestation is the last step in the document attestation process.You may require to attest several kinds of documents for use in Oman. These include Birth certificates, Educational certificates, Marriage certificates, Passport, Police clearance certificates, Degree certificates,  Bonafide Letters,  Certificate of Incorporation, etc. 
MOFA Attestation Oman Location
To get the MOFA attestation oman location, you should get in contact with the  Ministry of Foreign Affairs of Oman. Citizens of Oman, foreign residents, businesses, etc., can avail of the services. The attestation offices run by the Foreign Ministry of Oman are located in Al Buraimi, Sohar, Nizwa, Rusayl, Khasab, Salalah and Sur. The headquarters are in Muscat.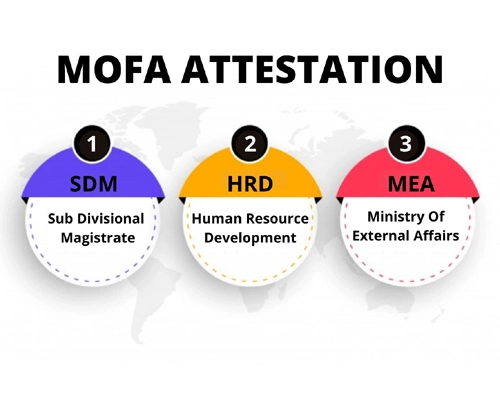 The attestation department operates during particular hours only. It is advisable to know about the working hours before you start the process. NEW INDIA ATTESTATION supports all kinds of MOFA attestation services in Oman.
Relevance of Attestation Companies
The complicated procedure of attestation may put a common man in a quandary. This is where a company specializing in attestation services can be of great help. Their staff experienced in the attestation field can easily navigate through the whole process. Their connections with various offices and officials will make the process go smoothly. They can make sure your documents meet all the criteria and pass through different stages of attestation successfully. And when considering such a company in Oman, New India Attestation is the name you cannot ignore. 
How New India Attestation Company Stands Out?
Not all attestation companies can offer you the same level of service. New India eclipses others with its expertise, industry knowledge, and strong commitment to service excellence. 
So, why wander in search of an attestation service provider when you can have an expert guide like New India Attestation Company at your side? New India Attestation believes in customer satisfaction and we undoubtedly offer you exceptional professional assistance. New India Attestation can make the journey easier for you. delve in now!