Whether it is for higher studies, professional reasons, or residential purposes, certificate attestation is imperative when you travel abroad. Certificate attestation is the process of authenticating your documents and certificates by notaries and government authorities who check the information in the certificate and attach signatures by validating it. Attestation of your valuable certificates can help you have a smooth travel experience in a foreign country.
Without proper attestation, you may face legal issues. To ease the intricate process of Qatar Attestation, you can rely on the services offered by NEW INDIA ATTESTATION. NEW INDIA ATTESTATION  is the best certificate attestation agency in Qatar that provides all types of attestation services and embassy services for India, the USA, the UK, Australia, Canada, and the seven Gulf Cooperation Council countries. 
Why is
certificate attestation mandatory in Qatar?
To apply for a residential visa

Educational certificates and personal documents are required to  certified for employment purposes in Qatar.

To enroll in an educational institution, attestation of educational certif

i

cates is mandatory.

Attestation on police clearance certification is necessary for visa processing.

To engage in commerce and trade activities.

Marriage and dissolution of marriage require the attestation of contracts.

Attestation is essential while visiting the country.
Documents that may require attestation for use in Qatar:
Educational Certificates

Employment Certificates

Business Registration Documents

Birth

Certificates

Death Certificates

Marriage Certificates

Police Clearance Certificates

Medical Certificates
The process of

certificate attestation in Qatar

generally has the following steps:

Step 1: Collect the required documents and certificates
The very first step in your attestation process is collecting the required documents. Different attestation procedures need different documents. Nonetheless, there are some documents that are commonly required for certificate attestation in Qatar:
Original Certificate

A copy of the Passport 

Attestation application form

At times, the certificate translated into Arabic may also be required along with the above-mentioned documents.
Step 2: Submit the documents to the Ministry of External Affairs
Before submitting them to the Qatar Embassy, the documents should be authenticated by the Ministry of External Affairs (MEA) in the home country. MEA will check your documents thoroughly. You might be required to present supporting documents for verification purposes. After validating the integrity of the certificates, MEA will stamp the documents with an official seal. 

A fee should be paid for attestation purposes, and it may vary according to the type of certificate being attested.

 
Step 3: Submit the stamped documents to the Qatar Embassy
After verification from the MEA, submit the documents to the Qatar Embassy. Once they verify the authenticity of the documents, they will attest the certificate with an official seal.

After the attestation process, you can gather the attested documents from the embassy.

The particular process mentioned by the Qatar embassy should be followed thoroughly in attestation, failing to which may cause an impediment in the visa approval. Even a tiny error can cause rejection. However, once the embassy attests to the document, it is valid until the document is lost or destroyed.
Time required for certificate attestation in Qatar
The process of attestation is easier said than done. It is much more cumbersome and time-consuming. As a lot of government departments are involved in the process, it may take a few months to get the certificates attested however, the process can be completed in less than 2 weeks depending upon the certificates to be attested, the rules of the country, and more. The time can be significantly reduced if you take help from an attestation agency.
Following a few additional steps, you can easily navigate through the tiresome Certificate Attestation in Qatar process:
Attestation is a lengthy procedure and may take several weeks or even months, so start the process early to present them before the final date.

Before beginning the process, inquire about the required documents and take multiple copies of them.

Ask the embassy and legal personnel before starting the process.

Birth Certificate Attestation in Qatar
Birth Certificate is an important document to be attested while planning to travel abroad. It is one of the most significant documents that verify your nationality, date of birth, birthplace, sex, etc. It is included in non-educational certificates. Birth Certificate is issued by the Ministry Of Public Health (MOPH) and it is attested by MOFA.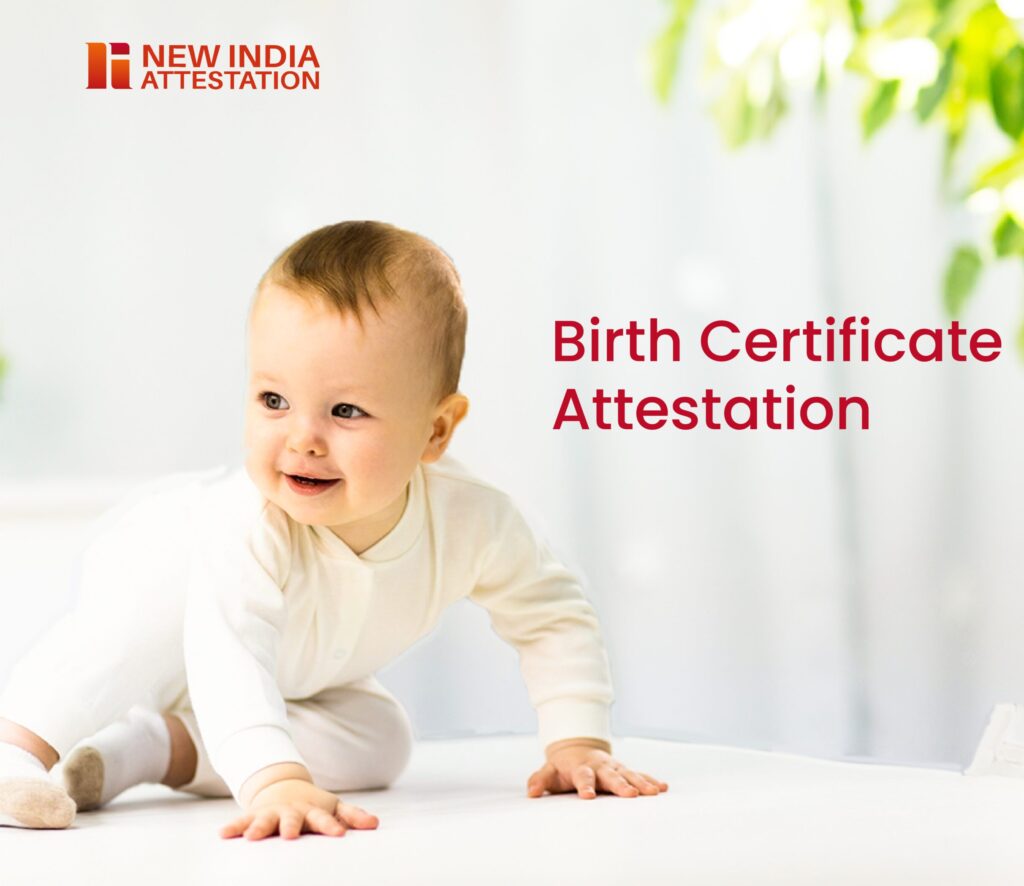 Documents required for Birth Certificate Attestation:
Original Certificate

Copy of visa

Copy of Passport

2 Photographs

Authorization letter
Birth Certificate Attestation in Qatar requires attestation from various authorities, including:
Notary Attestation

SDM/Home Department Attestation

Attestation from the Ministry of External Affairs

Attestation from the Embassy
Birth Certificate is used as proof of age, and attestation of the certificate is required for higher education, employment, and migration purposes. It will be required while applying for a family visa.
How NEW INDIA ATTESTATION  can help you with Certificate Attestation in Qatar
Certificate Attestation can be a complicated and tedious process, causing a lot of stress and consuming precious time. A simple error may prove a mammoth hurdle in your visa processing. It is advisable to get the certificates attested well before your travels. To simplify the process of attestation, you may want the services of a reliable and professional Certificate Attestation Agency in Qatar. NEW INDIA ATTESTATION  can prove the right fit for your requirements.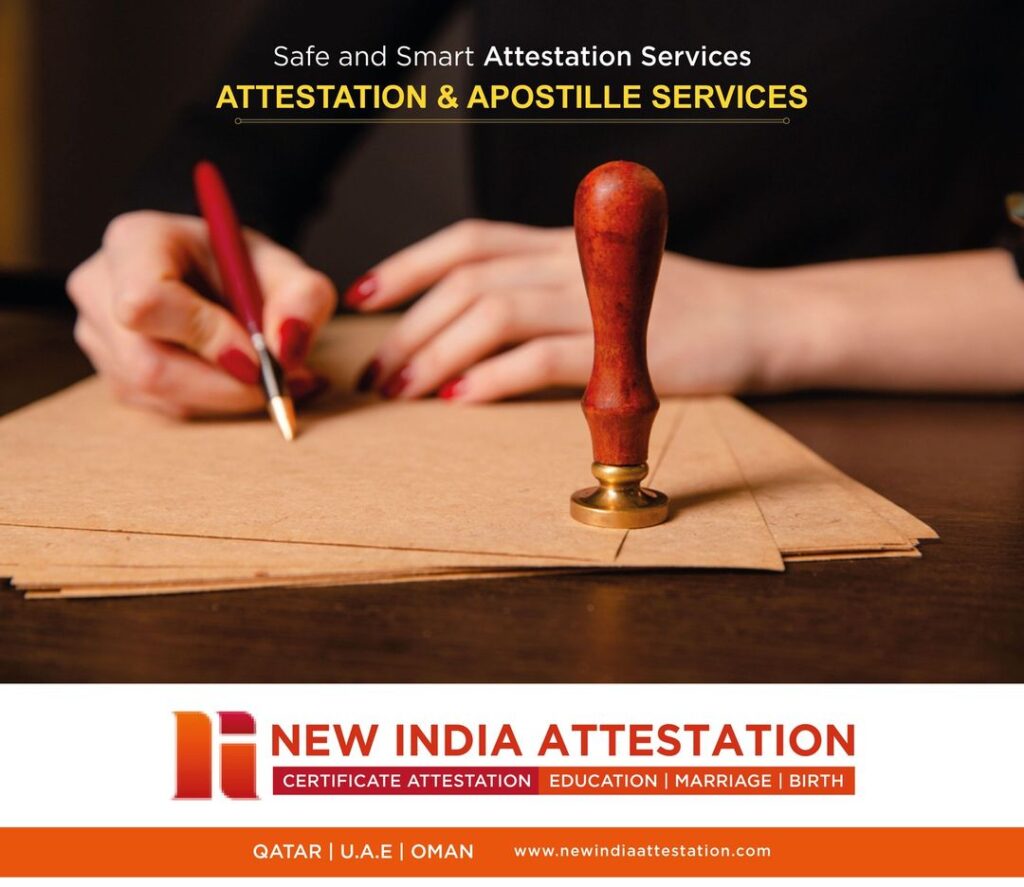 NEW INDIA ATTESTATION  is an authorized service provider with a highly organized and professional team catering to the various needs of its clients. It is the best attestation agency in Qatar.

With years of experience in the field, NEW INDIA ATTESTATION  can guarantee reliable services. NEW INDIA ATTESTATION ensures individual attention to every customer and strives to provide maximum customer satisfaction. 
Once you assign the attestation task to NEW INDIA ATTESTATION  services, you can relax. NEW INDIA ATTESTATION  can assure you of the highest quality attestation services in a time-bound manner.
Having a user-friendly policy, NEW INDIA ATTESTATION  gives you hassle-free attestation services in a relatively negligible time and at an affordable price. As customers need to pay only after the attestation, it makes NEW INDIA ATTESTATION  services more attractive. 
Hope this blog helps you with all your queries regarding certificate attestation in Qatar.