Police clearance certificate is an official certificate that is issued by the native country in order to prove that the candidate have no criminal background and do not possess a threat to the country. The criminal background includes conviction, arrest, or any other criminal offenses. This official document is issued by police department or Regional Passport office from where the passport was issued to enumerate the criminal records of the applicant. Police clearance certificate is actually the holder's good conduct certificate, inspite of judicial record extracts. Now more people are going abroad for jobs, study purposes and settle in there. It is thus compulsory for every expat to get the police clearance certificate before they fly down to another country. New India attestation services in Qatar can help you efficiently to get your police clearance certificate within days.
<>Police Clearance Certificate Attestation for Qatar
Why Police Clearance Certificate(PCC):
For Business Set up
To obtain entry visa for certain countries
Migration purposes
On Employers Request
Joining the University
Working as Tourist Guide
Employment needs
Both Qatar nationals and expats need PCC to prove that he is free from criminal activities. No one is allowed to enter into Qatar who seems as a threat to the country and its inhabitants. The police clearance certificate is also called police verification process in Qatar. Judicial record extracts, criminal background check, good standing certificate, and police clearance are the different names for PCC in different countries. PCC in Qatar is issued by the government departments in the country. The process of attestation for police clearance certificate is different for different countries and territories. You can seek help from New India attestation services in Qatar to get your PCC attested within limited time frame.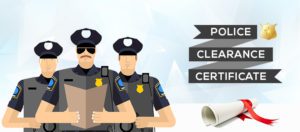 You would need the following documents to apply for Police clearance certificate in Qatar:
Copy of passport
4 passport size photo with white background
Fingerprint
Visa copy of Qatar
Qatar entry and exit page
Qatar visa cancellation page
It is compulsory to make all your documents legal before you enter into Qatar. The rules and regulations there is really strict and you cannot cheat or break the rules being in the country. The punishments are also unbearable. There should be no criminal records for the person to get into the country. Also, in order to prove the genuinity, the PCC should be attested by the authenticate council or department. The first step of attestation is making your police clearance certificate valid from the regional office or the Home Department. This ensures that the document was issued from a legitimate authority and that the seal and signature are original. Second, it is attested by the Ministry of External Affairs in your country and finally by the Qatar Embassy or consulate in India. PCC is important for obtaining family visa, student visa, employment visa, etc, and attestation is mandatory to make the certificate valid in Qatar. Certificate attestation services in Qatar can help you get your police clearance certificate attested. New India attestation services in Qatar is the right hand for you to rely on for getting your certificate attestation perfectly.