If you're an expatriate living in Oman, then getting a marriage certificate attestation is a crucial step when it comes to validating your marriage. NEW INDIA ATTESTATION  is known for handling different types of certificate attestation, including marriage certificate attestation in Oman.

The main purpose of the attestation process is that it is necessary for all legal purposes, including visa applications, employment purposes, property ownership, and other legal procedures.
With many searching for a reliable attestation provider at the very moment, NEW INDIA ATTESTATION  has assembled a team of highly responsive and prompt professionals to deal with any sort of certificate attestation at any time of the day.

We became the most preferred certificate attestation agency in Oman for ex-pats due to our commitment to fulfilling their requirements within a short period of time.

Completing any type of certificate attestation individually can cost you valuable time and money, which will eventually drag out your certificate attestation processes. Whether it's educational, non-educational, or commercial registration, we ensure that the documents are attested as per the guidelines and regulations of the concerned authorities, making them acceptable and valid for use in different applications.
Importance of Marriage Certificate Attestation in Oman
Marriage certificate attestation in Oman is a mandatory requirement that needs to be completed before moving into the country with your family. It is a legal requirement for expatriates to provide a duly attested marriage certificate when applying for a family visa or sponsorship.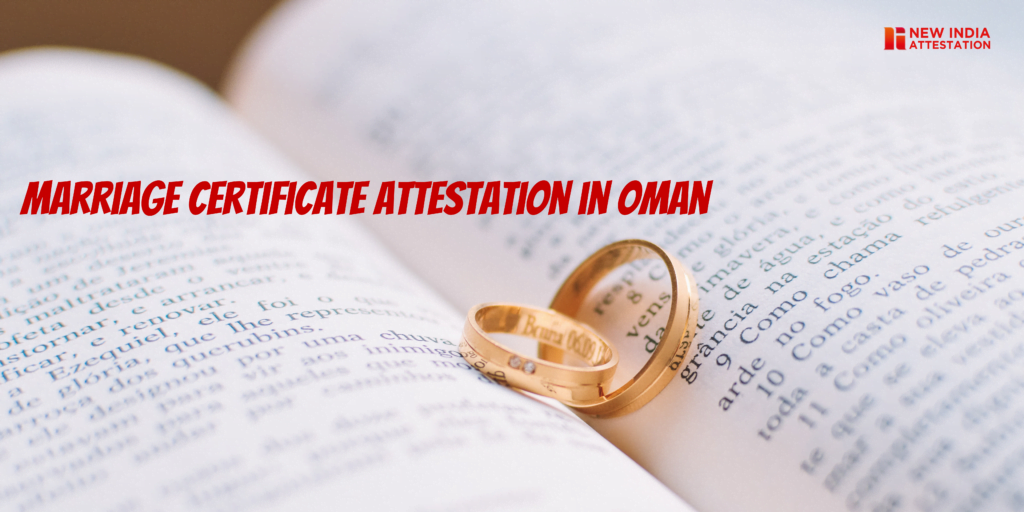 Additionally, attesting a marriage certificate is necessary for those who want to register their marriage in Oman or purchase a property jointly with their spouse. If you don't know where to begin your certificate attestations, then reach out to the expert services of NEW INDIA.
To attest a marriage certificate in Oman, there are several steps involved. The first step is to obtain authentication from the relevant authorities in the country where the marriage was registered, which may include obtaining a notarized copy and an apostille or legalization stamp.

The next step is to have the certificate attested by Oman's Ministry of Foreign Affairs by submitting the original certificate and required documents. Finally, the certificate must be presented to the Embassy or Consulate of the expatriate's country in Oman for verification and attestation, including the submission of the attested certificate and supporting documents.
How We Can Serve You As A Certificate Attestation Agency in Oman?
Well without any debate, we have yielded a transparent record of completing several attestation requirements at record time but also in a professional manner. Legalizing your personal document is very important to lead a happy life abroad and attesting to your certificates is necessary.

NEW INDIA ATTESTATION  can give you peace of mind that your documents have been legally authenticated and are valid for use in a foreign country. 
As a well-regarded certificate attestation agency in Oman, our professional workforce can collect and deliver your documents, communicate with the relevant authorities, and keep you informed throughout the process with an online tracking ID facility.

"Now you can focus on important matters and leave the hassles of attestation procedures to NEW INDIA ATTESTATION."
Take Your First Step With Us
If you're searching for an adequate attestation and apostille-related service provider to complete your marriage certificate attestation in Oman, then reach out to us today.

We can provide expert advice on the appropriate steps to take and the most efficient way to proceed with your certificate attestations.

Being an elite certificate attestation agency in Oman, we are the right partner to take your first step in order to attest your educational, non-educational, and commercial documents.