As the world becomes increasingly globalized, it is more important than ever to have a professional and efficient attestation service provider to assist you. That's where NEW INDIA ATTESTATION  in Qatar comes in as one of the leading attestation service providers in the country,  we offer a range of services designed to simplify the process of certificate attestation in Qatar and ensure that they are recognized as valid by the relevant authorities.
At NEW INDIA ATTESTATION, the team is committed to providing fast and efficient services that meet the unique needs of each client. Our certificate attestation agency in Qatar understands that the process of attesting documents can be complex and time-consuming, especially for those who are unfamiliar with the requirements and procedures involved.

That's why we take a personalized approach to each case, providing guidance and support every step of the way.
Educational Certificate Attestation in Qatar
The main purpose of educational certificate attestation in Qatar is to ensure that the educational documents submitted by an individual are genuine and authentic.

Its purpose is to verify the authenticity of educational documents to prevent fraudulent use and to ensure that foreign institutions and employers acknowledge the individual's educational qualifications.

In essence, the attestation process is necessary to ensure the credibility and legitimacy of educational documents and to safeguard against their misuse.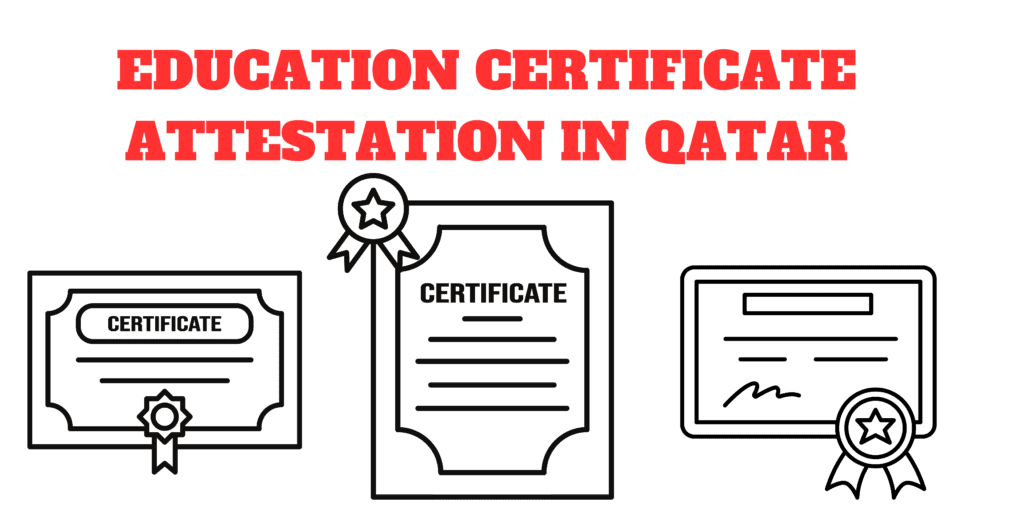 In today's world, attesting your educational documents is mandatory for moving forward in your career.

We have vast years of experience in handling educational attestation services and consist of experienced individuals that can respond to your requests at any time of the day without the slightest delay.

Our team of professionals can handle all aspects of the attestation process, including document verification, legalization, and submission to the relevant authorities.
What Makes us a Renowned Certificate Attestation Agency in Qatar?
One of the advantages of working with our certificate attestation agency in Qatar is the commitment to providing high-quality services at a reasonable cost. We clearly understand that attestation services can be expensive, especially for those who require multiple documents to be attested.

That's why we only charge competitive pricing and transparent fees, so clients know exactly what they can expect to pay for our attestation and apostille-related services.
Another advantage of working with NEW INDIA ATTESTATION is the commitment to placing importance on customer service. Our firm is dedicated to providing personalized attention to each client, ensuring that their needs are met and their questions are answered.

We emphasise being responsive and communicative, keeping clients informed every step of the way, which is why we provide an online tracking ID facility to our clients. In addition to document attestation, NEW INDIA ATTESTATION  also offers a range of other services, such as embassy services, PRO services, and translation services.

Having a partner for your certificate attestation in Qatar like the NEW INDIA ATTESTATION  is going to save you valuable time and money. In today's world that demands perfection in every document we possess, it is important to attest your documents and verify their authenticity.

With our expertise and experience as a certificate attestation agency in Qatar, we're well-equipped to meet your emergency requirements. Now take the frustration off your shoulders and let us take care of that in a satisfying manner.
The NEW INDIA ATTESTATION  is keeping its hand extended to those who are confused and struggle to complete their certificate attestation within a brief period of time. From educational certificate attestation to commercial registration, avail of our services and upgrade your career beyond any limitations.